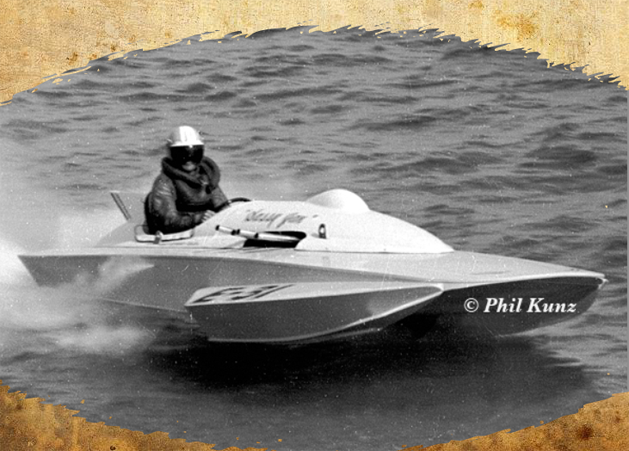 **WHEREABOUTS UNKNOWN**
SASSY JAN E-31
aka - TOMCAT aka - RE-PETE E-1616
aka - RUNNING WILD E-712
WANTED IN CONNECTION FOR ITS PAST RACING HISTORY

WANTED FOR DISTURBING THE PEACE
-- approach with extreme caution --

The WANTED was built in the late 1950s by the infamous Will Farmer and first ran under the name of Tomcat.
Around 1963, Jim Cunningham obtained it and had Ken Wright drive for the next two years.
She was a good running hydro and brought home many podium finishes as Tomcat and Sassy Jan for the first two owners. Cunningham sold this Farmer and purchased a newer Farmer hull in or around 1965 and continued campaigning under the name Sassy Jan.

This hull continued racing as Re Pete E-1616 and Running Wild E-712 as late as 1970.
Alias:
SASSY JAN E-31,
TOMCAT, RE-PETE, RUNNING WILD
Date of Birth:
1950s
Builder:
Will Farmer
Length:
16'
Power:

Chevy 265 cu in.

Occupation:
STOCK E class inboard hydro
Identifying Scars & Marks:
probably many
DO NOT ATTEMPT TO APPREHEND & DRIVE.
CONSIDERED ARMED AND EXTREMELY FAST!
IF YOU HAVE ANY INFORMATION ON THIS WANTED, CONTACT:
AMERICAN POWER BOAT ASSOCIATION INBOARD HISTORIAN, PHIL KUNZ.