High Winder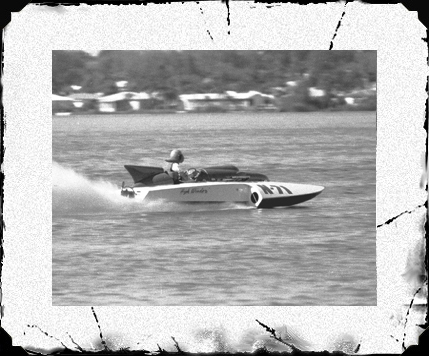 Whereabouts Unknown
THIS RACING HULL IS WANTED IN CONNECTION FOR IT'S PAST HISTORY.
High Winder - circa 1965
This Ted Jones design/Les Staudacher built, was built by in 1955 for its original owner Bill Muncey as a 266 cu. in. (F class.) Bill campaigned it under the name of Chevrolier. Bill lived in the Detroit area until the late 50's when Bill moved to the West coast to drive unlimiteds. Before he left, he sold it to a doctor in the Detroit area who campaigned it as Chiro in the F class. In the early 60's the doctor sold it to Ed Morgan of Detroit who installed an aluminum Buick motor and campaigned it in the 225 (N class) as the High Winder. Ed made this screamer run so well, he set the competition record with it at New Martinsville, W. Va. in 1962 and won many races before he sold it and ordered a new hydro from Ron Jones. It was last seen in the Michigan area in the late 60's campaigning as a 280 cu. in. (E class) with a different owner.

| | |
| --- | --- |
| Name: | High Winder |
| Date of Birth: | 1955 |
| Builder: | Stadaucher |
| Length: | 16' or 16.5' |
| Occupation: | Raceboat - F, N, E class |
| Scars & Marks: | probably many |
REMARKS:
CONSIDERED ARMED AND EXTREMELY FAST!
IF YOU HAVE ANY INFORMATION REGARDING THIS RACEBOAT,
PLEASE CONTACT THE US APBA INBOARD HISTORIAN, PHIL KUNZ.