Intruder
aka- Lil Abner's Intruder
aka- Stainless Steel Special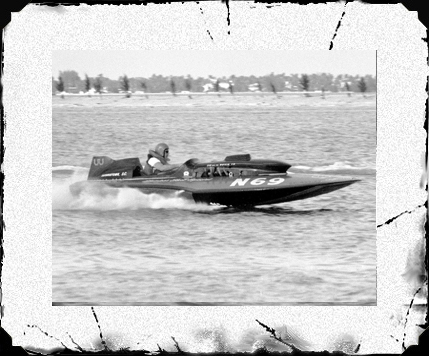 Whereabouts Unknown
THIS RACING HULL IS WANTED IN CONNECTION FOR IT'S PAST HISTORY.

The suspect is approx 17 ft long. Evidence has this suspect being built about 1961 by the infamous Jack Colcock. Suspect first seen in Madison, Indiana in early 1960's. She was a 280 cubic inch class hull and was based out of Louisiana by Spellman Pellerin, Sr. with Johnny Landaiche driving. The boat was running under the name Intruder. The suspect was next seen in Florida being campaigned in the 280 class by Al Mims as Lil Abner's Intruder. When running in the E class, power was via a Chevy 265. It was last seen in the mid 1960's running in the N class (as shown in photo) as the Stainless Steel Spl. by Robert Kaufman from South Carolina. The N class hull was being powered by an aluminum 215 Buick.

| | |
| --- | --- |
| Alias: | Intruder & Stainless Steel Spl. |
| Date of Birth: | about 1961 |
| Builder: | Jack Colcock |
| Length: | about 17' |
| Occupation: | Raceboat - 225 & 280 cu in |
| Scars & Marks: | probably many |
REMARKS:
CONSIDERED ARMED AND EXTREMELY FAST!
IF YOU HAVE ANY INFORMATION REGARDING THIS RACEBOAT,
PLEASE CONTACT THE US APBA INBOARD HISTORIAN, PHIL KUNZ.