Macaroni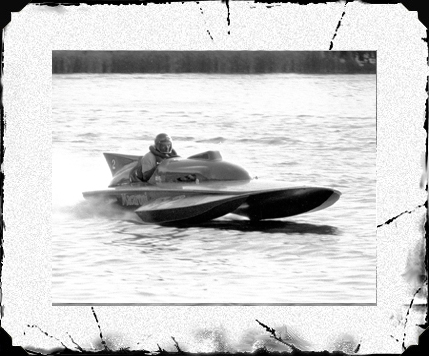 Whereabouts Unknown
THIS RACING HULL IS WANTED IN CONNECTION FOR IT'S PAST HISTORY.
One - 280 cubic inch class hydroplane. Designed and built by the notorious Henry Lauterbach in 1965.
This wanted was 16' long and running a Chevy 265 engine. It was owned by Joe Siracusa and was one of the famous "Pasta Navy" group of hydros from Louisiana. This group of southern rebels also had other boats in it's fleet, using the the names Pepperoni, Noodles, & Speggitini. The Macaroni was last seen running in 1967-1968 out of Louisiana under the name of The Chopper with ownership of Nick Manale. Mr. Manale hired the infamous Tony Sanzone, to pilot this wanted.

Do not attempt to capture the above.
Please take the appropriate steps to ensure your health and well being before trying to secure the above wanted.

| | |
| --- | --- |
| Name: | Macaroni |
| Date of Birth: | 1965 |
| Builder: | Henry Lauterbach |
| Length: | 16' |
| Occupation: | Raceboat 280 class |
| Scars & Marks: | probably many |
REMARKS: CONSIDERED ARMED AND EXTREMELY FAST!
IF YOU HAVE ANY INFORMATION REGARDING THIS RACEBOAT,
PLEASE CONTACT THE US APBA HISTORIAN, MR. PHIL KUNZ.